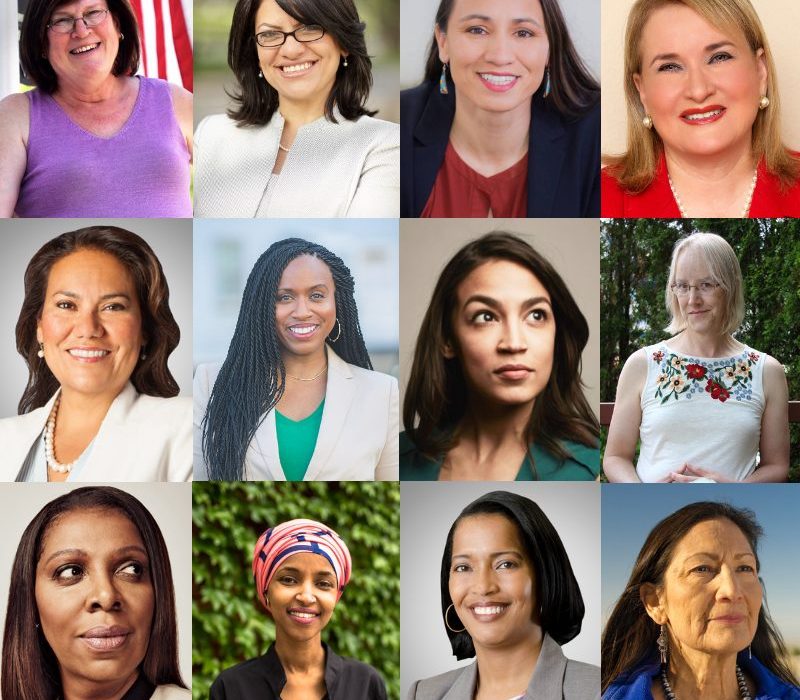 Across New York and in tight races across the country, women broke new ground and won a record of at least 126 seats in Congress – more than at any time in history. Together, NOW-NYC volunteers knocked on over than 5,000 doors and made more than 5,000 calls in support of pro-women's rights candidates. Together, we will continue to make change.
Women made history across the nation.
In a wave of historic firsts, we elected two of the youngest women to ever serve in Congress. We elected the first Muslim women, Native American women, and openly transgender women to Congress, and we elected a number of the first African-American, Latina, and gay people to serve in their states.
Here in New York, Attorney General-elect Letitia 'Tish' James will become the first black woman to hold statewide office. State Senator Andrea Stewart-Cousins will be the first woman to lead the New York State Senate as majority leader. In 2019, the amount of women serving in the New York State legislature is now 31%, up from 28% in 2018. Across the country, women will hold at least 23% of the seats in Congress and at least 27% of seats in state legislatures.  
Here are a few of the incredible women that made history this midterm election:
Ilhan Omar and Rashida Tlaib are the first Muslim women elected to Congress

Sharice Davis and Deb Haaland will be the first Native American women to serve in Congress

Alexandria Ocasio-Cortez is now the youngest woman elected to Congress

Danica Roem is the first openly transgender woman elected to the Virginia state legislature

Ayanna Pressley will become Massachusetts' first black member of Congress
Together we ignited change.
NOW-NYC, with the help of our members, volunteers, and fellow advocates, knocked on more than 5,000 doors and made more than 5,000 calls. We took buses to New Jersey's 11th Congressional District to help get women's rights leader Mikie Sherrill across the finish line. We put boots on-the-ground in Bay Ridge to help Andrew Gounardes secure his seat for State Senate in South Brooklyn's 22nd District–ousting a sixteen-year incumbent.
At least 102 women will serve in Congress, at least 23 women will serve in the U.S. Senate, and 9 women will serve as governors; each one of these numbers represents a victory for women's rights.  
We flipped our State Senate blue.
We elected leaders that represent pro-choice majority voters all across New York state. Our  new senators will bring progressive ideas to Albany. New York is finally on track to secure abortion and contraception access, strengthen gun control, and win justice for child survivors of sexual abuse.
We are standing up for justice and equality.
It's not just about who won, it's about what these leaders stand for. We finally have a House of Representatives that will hold the line on Trump's recklessness and defend our democracy and freedom. Thank you to everyone who made calls, knocked on doors and changed minds. This victory is ours, together.